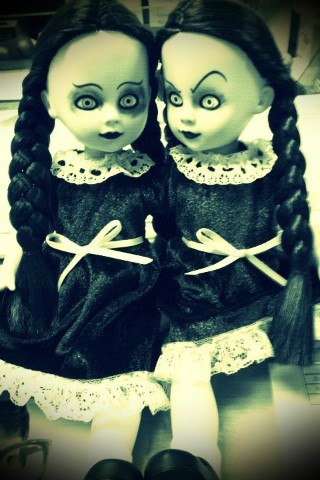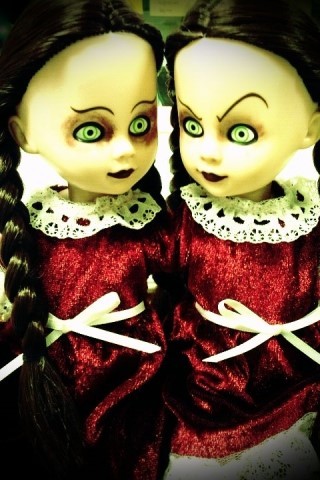 LDD Living Dead Doll​s
Hazel and Hattie / Date of death: 1/6/1969
CHIPBOARD POEM​
Siamese Twins inseparable from birth.
Terror and dismay is what brings them mirth.
Doubling your pain is best what they know,
So come to their carnevil it's one hell of a show.
출생때부터 분리 할수 없는 샴쌍둥이.
공포와 실망이 그들에게 기쁨을 가져다가져다줍니다.
당신의 고통을 두배로 늘리는 것이 그들이 아는 가장 좋은 것 입니다.
이제 지옥의 쑈. 그들의 카니발(carn,evil = carnival)로 오세요.

DEATH CERTIFICATE​
Hazel and Hattie were born one of a kind.
Hattie died suddenly before their time.
Hazel wasn't ready to accept death with her,
So Hattie arose to bond them by murder.
해티와 헤이즐은 독특하게 태어났습니다.
해티는 때가 되기 전에 갑자기 죽음을 맞았고
헤이즐은 아직 그녀와 함께 죽을 수 없었습니다.
그래서 해티는 살인으로 그녀들을 결속하기 위해 되살아났습니다.


+ 리빙데드돌 익스클루시브 헤이즐과 해티, 오리지날 버전